Polyester conveyor belt
The polyester conveyor belt is also called EP conveyor belt, its framework canvas woven by polyester in warp and polyamide in weft.
The EP conveyor belt has the characteristics of low elongation in warp and good trough ability in weft, high tensile strength, excellent abrasion, impact resistance, strong adhesion between layers. It is suitable to convey materials in medium and long distance, high loading at high speed and long service life.
EP conveyor belts are widely used in quarry industry, mining industry, coal industry, steel and iron industry, sand pits, power stations, cement industry, metallurgical industry and architectural industry and etc.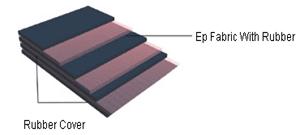 Specification of Multi-ply Polyester Conveyor Belt

Carcass
Fabric structre
Type
No. of Plies
Max.one piece fabric width(mm)
Belt Width(mm)
Warp
Weft
EP
Polyester
Nylon-66
EP80
1-6
2400
300-2400
EP100
EP125
EP160
EP200
EP250
EP300
EP350
EP400
EP500