Sidewall Conveyor Belt
Due to space limitation or in case of lifting materials at large slope, raised edge conveyor belt is often used to prevent scatter of conveyed materials, it is suitable of conveying materials at a large slope from 0 degree to 90 degree. the slope of conveying can be changed from horizontal to sloping, this can reduce the number of transfer points during operation, this has a positive outcome in terms of producing a mode of operation that saves energy and capital,
Sidewall conveyor belt contains 3 parts.
1.Cross-stabilised base belt.
2.Sidewalls.
3.Cleats
1.Cross-stabilised base belt.
Type XE
This belt incorporates the cross-stabilising ply in the tensioning ply, mainly used for medium duty applications.

Type XE+2
The cross-stabilising ply and tensioning plies are separate, in this case the belt has 2 cross-stabilising plies, application areas are medium to heavy.

Type XE-SC+2
This belt incorporates textile tension plies with steelcord cross-stabilising members, the high lateral stiffness means the belt can be used in application areas where rigidity is an important factor. Application areas are high lift heights and wide belts.

Type XST-SC
This belt incorporates steel cord tensioning with steel cord cross-stabilising members, high tensile strengths can be achieved making the belt ideal fro high vertical lift applications.

Base belt composition
X : Cross-stabilised construction
E : Polyester tension plies
+2:Number of separate cross-stabilising plies.
SC: Steel cord cross-stabilised
XST-SC: steel cord
2.Sidewalls:
The sidewalls are produce from a high elasticity and high strength rubber compound and offer excellent flexibility and therefore maximum flexing. The use of diagonal fabric for the reinforcement within the sidewalls ensures maximum elongation of the fabric at the flexing points as well as increasing tensile strength, again increasing the life of the sidewall.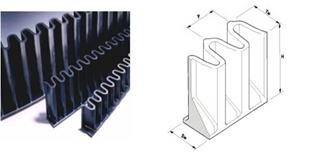 3.Cleats.
Cleat Types
Height mm
Base width mm
Type "C"
35
55
55
75
75
80
90
110
110
110
Type "TC"
75
80
90
110
110
110
140
160
180
160
230
175
Type"MBTC
110
160
140
160
180
160
230
160
250
160
280
160
360
160
Type "TC-XS"
230
225
250
225
280
225
360
230